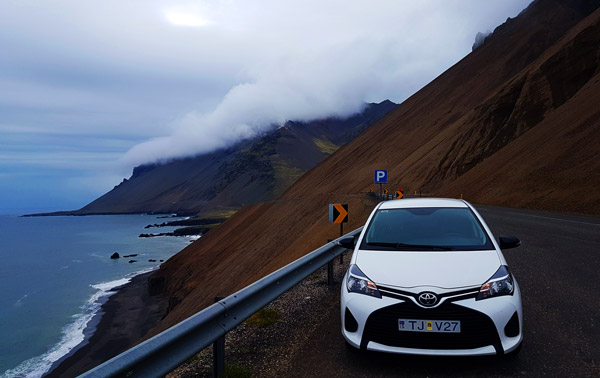 Rent a car in Iceland - how to choose proper car, what is the cost of renting a car, is it worth taking full insurance, where you can drive a car, and where you have to take a tour. We will share our experience of renting a car in Iceland based on our multiple trips - everything you need to know!
The easiest way to travel around Iceland is by car, although there are a huge number of tourists on motorcycles, bicycles and those who walk or hitchhike. Each way of moving has its pros and cons, the choice of vehicle depends entirely on your imagination and preferences. And from this article you will learn how to rent a car in Reykjavik (Keflavik airport) and what pitfalls await you...
Where to rent a car in Iceland?
You can rent a car in Iceland everywhere or almost everywhere. Of course, most rent a car either in the capital of Iceland in Reykjavik or at Keflavik International Airport, which is located 40 km from Reykjavik.
---
ProTip: a bus from the airport to Reykjavik will cost you about 20 euros per person, and for the same money you can rent a car...
---
If you arrive at the airport and have not booked a rental car in advance, then you have little choice and it is quite expensive - there are international companies like Hertz and Budget, which have their own car rental desks in Keflavik airport. Of course, we are not talking about inexpensive car rental here - it will be expensive, and if it is during high season, then there is no great choice...
Therefore, you need to take care of renting a car in advance especially in high season, and it's better to choose it from local rental companies, because they are not only cheaper, but also the search for specific Icelandic options is more convenient (maybe you are looking for a car with the opportunity to sleepover and kitchen? and here in Iceland we are not talking about a big camper...)
In general, we recommend to use an excellent site aggregator of local and international companies (to be honest) and choose your dream car for a super trip around this amazing country - guidetoiceland.is
Also, of course, you can rent a car in the north of the island and in the south, and also in the west and east, but since you still need to get there, I will advise you to rent a car directly from Keflavik airport, although if you came by ferry, but without a car this option might be useful.
It is also worth remembering that during the high tourist season, from July 1 to September 1 (for some car rental companies from mid-June), the cost of car rental increases by 1.5, or even 2 times. Thus, in early June, a car for 10 days cost us about 280 euros, then exactly the same car for the same number of days, but in early July, will cost you 370, or even 500 euros, depends on availability.
It is more profitable to rent a car directly at Keflavik Airport, most car rental companies have their office right next to the airport, and a free shuttle or private buses runs from the airport terminal to them.
Which car to choose in Iceland?
One of the many questions that travellers going to Iceland ask themselves is which car to choose?! After all, everyone has heard about terrible unpaved roads and that there is nothing to do in Iceland without AWD or 4WD car... So let's dispel a few myths.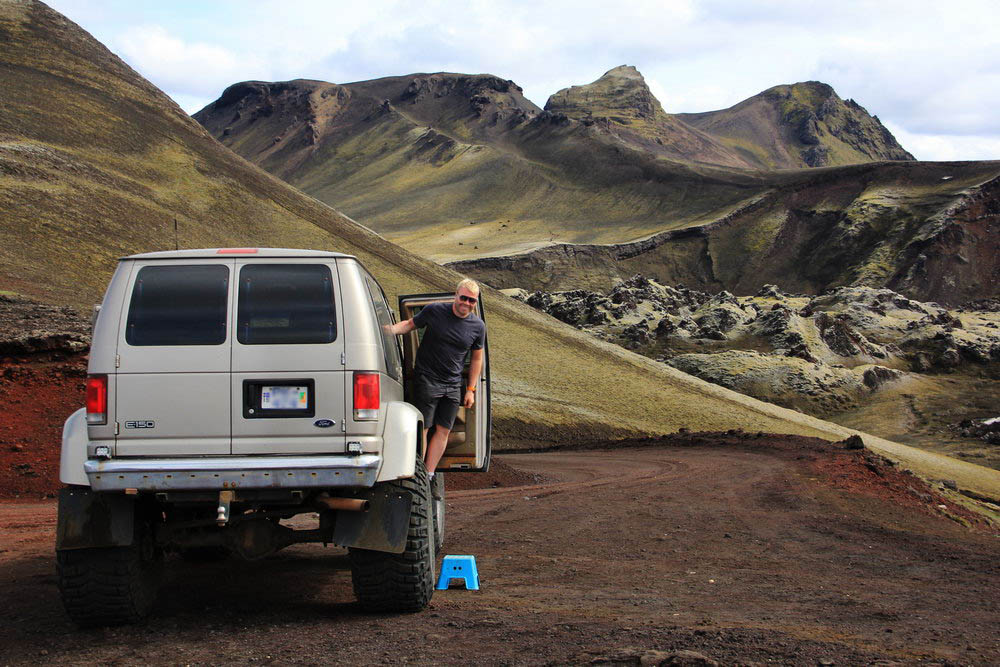 It all depends on the format of your trip around the country. Main determining factors:
where do you want to go - whether you need four-wheel drive or not. In Iceland, only four-wheel drive vehicles are allowed to enter roads with the F index (mountain roads). If you are going to go there in a regular car (even it is prohibited) and something happens, it will cost you really a lot.
where do you plan to spend the night - in a car, in tents or in hotels. Do you need a lot of free space for gear (tents, sleeping bags, etc.) or not?
how many people are you and do you need to place for a child seat/s
2WD car:
In order to go around the island along the ring road with a stop at the most interesting places, four-wheel drive is not needed, and although there are unpaved roads, it's good quality and any small car can easily drive through them. Find the smallest and cheapest car here.
It is most comfortable to take such a car for 2-4 people. Then you will have enough space for luggage, especially if you are traveling longer than a week and plan to spend the night in tents.
Advantages of renting small car in Iceland:
relatively low rental price, especially if divided by 3-4 people
low fuel consumption
mobility
a large number of models and rental companies
Disadvantages:
can't sleep in the car
you can't drive into the Highlands central region
if you take a small car, then there may be a problem with the space in the trunk
All-wheel drive vehicle (4WD or AWD):
If you want to get off popular tourist roads and visit the high mountainous central part of the country, then you can not do without a four-wheel drive car.
All roads with the index F (for example F127) are available only for all-wheel drive (or 4WD) vehicles. Also, on some roads without the designation F, travel may be prohibited, in this case a prohibition sign will be at the beginning of the road. For example, if you want to visit the area of ​​the rainbow mountains Landmannalaugar, then you need a four-wheel drive car, as you need to cross several rivers.
At the rental, you can take an additional option - a tent on the roof, if you do not want to sleep in a regular tent. 4WD vehicles for adventure in Iceland!
Pros:
you can drive into the mountains or hard-to-reach western fjords
confident movement on unpaved roads
usually a big trunk
Cons:
more expensive rental price and higher fuel consumption
more risk of damaging the car in the mountains
More about F-roads and why you may need 4WD: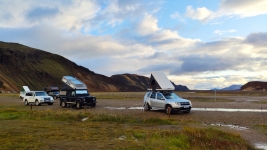 Discovering the highlands on F-roads in a 4x4 car ...
Mini camper  or car with rooftop tent:
Each of the options described above assumes that you have somewhere to stay for the night - whether in a hotel, or in a house in the mountains, or maybe just in a tent ... But what if you take your bed with you? This can be a great option, and if you are afraid to drive a huge campervan, then in Iceland it is not necessary, and it is not convenient, because there are many small cars adapted for camping. You can choose a car with a tent on the roof, or you can have a full bed inside - you choose! Mini campers and other cars with the option to sleep in the car.
The main advantage of a camper is protection in case of bad weather. When spending the night, you don't have to leave your mobile home at all, since everything you need will be inside (or almost inside). And this can be very important in case of bad weather, which is not uncommon in Iceland.
There are several options for campers in Iceland:
a large camper - like an American one, where there is a toilet, shower, kitchen and everything you need in general
equipped minivan - inside there is a bed, and possibly water. But you need to cook on your equipment (burner).
equipped "pie", like fiat doblo - similar in equipment to a minivan, but smaller
Camper pros:
comfortable overnight stays
just comfort
Cons:
quite expensive, including rental price and fuel costs
can't go to the mountains (some cars with rooftop tent is 4WD, so you can)
Rent a minivan or minibus:
This option is suitable for you if you are traveling in a group of more than 4-5 people. With a minivan, you will save on car rental, as it will be cheaper than two separate cars. You can also filter the list of cars by this parameter - minivans for rent in Iceland
Pros:
savings on rental for a group of more than 5 people
only one driver needed
Cons:
can't sleep in the car
you can't drive into the highlands central region, although it depends on the car...
How to rent a car in Iceland?
If you have decided which car you need and you know several large companies such as Budget, Sixt and others, then you can search on their official websites, with a 95% chance that offers will not be the most profitable.
To search for car rental options in Iceland, we recommend to use the guidetoiceland.is website, cars can be found here much cheaper than on other aggregators such as skyscanner.com or kayak.com. So far, from our experience (and this is already 4 trips to Iceland at different times of the year) - this is the most profitable way to rent a car.
---
ProTip: Local companies often do not work around the clock and if you arrive or depart at 8-9-10 pm, then you naturally put in the search the hours you need and voila - you do not see many really profitable offers. And if you change the time within working hours (usually up to 18), then there are much more offers. Of course, picking up a car after business hours usually has to be paid extra, but the low price often covers this fee.
I'll give an example:
We arrive at 20:00 and depart at 16:00. On our dates, the most basic four-wheel drive car of the Suzuki Jimny type with a minimum configuration costs from 520 euros. Just changing the arrival time to 17, we find a great Dacia Duster with a rooftop tent for... 360 euros + 50 for picking it up outside of business hours. Total 410 versus 520, plus your own rooftop home.
---
Found options can be filtered by size, type of the car and other parameters. You can choose to return the car to another location and much more. The only thing worth choosing is the country from which you have a driver's license, because some international car rental companies have different prices for people of different nationalities, and since you still have to specify the nationality during the booking process, the price will change immediately after that.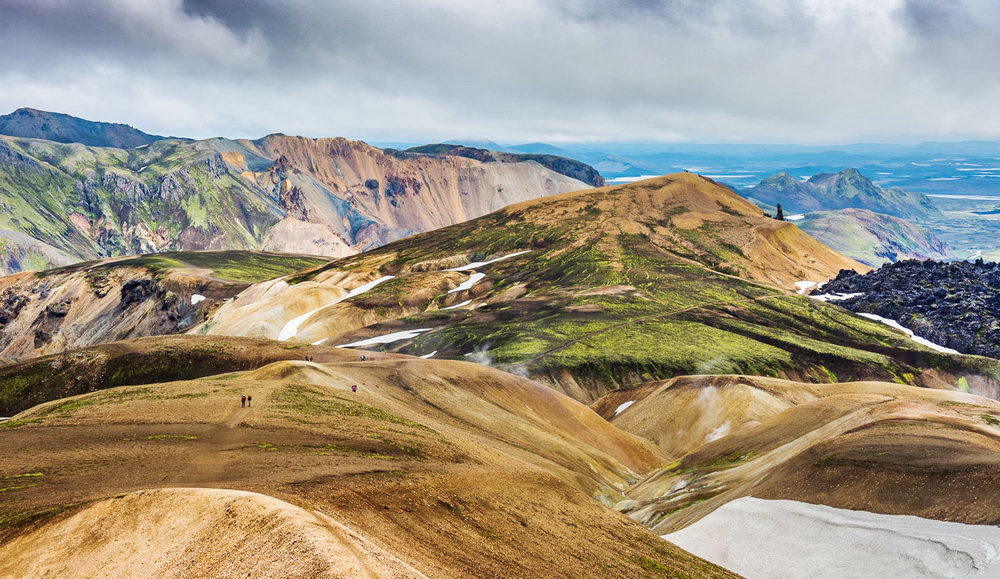 What to you need to rent a car in Iceland
The offices of most companies are located near Keflavik Airport, but not at the airport itself. However, do not worry, there is a free shuttle bus from Keflavik Airport to all international car rental companies or you will be picked up by minibus to the company office (usually it is 5-15 minutes from the airport).
Most Icelandic car rentals have similar conditions:
You can get a car if you have:
international driver's license
driving experience of at least a year
credit card
you must be at least 25 years old, and in the case of a premium car rental, even more. If you are 20 and you have driving license, then do not worry, you just have to pay more (unfortunately), the same will happen if you are over 60-65. This age varies from company to company.
The rental price, as a rule, includes unlimited mileage within the country, basic insurance in case of theft and accident, round-the-clock information service from the company. But still, be sure to check what exactly is included in your contract. Since in Iceland car rental with a mileage of 1000 km is still very popular. But if you decide to drive around Iceland by the ring road, then this will definitely not be enough for you. By the way, in order to go around Iceland using the first highway, without driving inland, a small cheap car is enough for you. Checked by us - toyota yaris is enough!
The credit card must be carried with you, as the card will be blocked by the amount consisting of the full cost of the rental and additional options that you order, plus the franchise. The franchise amount is set individually for each case and largely depends on the class of the rented car (usually the franchise is about 2000-3000 euros). The amount of the franchise is limited to your liability to the rental company. That is, no matter what happens to the car, you pay only an amount less than or equal to the franchise and nothing more. If everything is in order with the car, the funds on your card will simply be unblocked without any additional fees and only the cost of the rental will be charged.
The fuel policy of car rental in Iceland (as well as in most European countries) involves the issuance and return of a car with a full tank of gasoline. When issuing a car, you may be charged the cost of a full tank, and when returning a vehicle with the same amount of fuel, the amount is returned. If you return an unfilled car, the company has the right to deduct from you not only the cost of the missing fuel, but also a special rate for refueling. Given that the company will consider the cost of fuel at a high price, it will cost you much more than filling up the car on time. And don't worry that after refueling you will drive 5 or 10 km, a full tank is estimated by the fuel gauge on the dashboard.
It is also worth clarifying whether the car needs to be washed before returning. In most cases, this is not necessary, but it is better to check in advance.
If you got a not the newest car at the rental and it already has chips and scratches, then it will be on your shoulders to inspect it and mark all the defects (although sometimes everything is already marked or almost everything), since you are an interested person, then it is better to mark everything in the contract and maybe even take a picture of chips and scratches. Although in Iceland, unless of course you take a premium class car, no one pays attention to scratches less than a fingernail. But ask one more time before you take a car.
The most common difference in the policies of car rental companies is the franchise amount and the amount that is blocked on the account.
Traffic rules in Iceland
It is important that travelers, who rent a car in Iceland, should be aware of the laws here, which are different from those in their home country, so be sure to read and remember.
To rent a car, you must have a valid driver's license that you have been issued for more than one year ago. You must be at least 23 years of age to rent a minibus or 4WD car. Your license must be written in Latin characters or accompanied by an international driver's license.
There are no road tolls in Iceland. Only one tunnel is subject to payment.
Toll tunnel Vaðlaheiðargöng is located in northern Iceland. It is 7.4 km long and shortens the route between Husavik and Akureyri. The fare in 2023 for passenger cars is ISK 1650 (11 euros). Of course, this tunnel shortens the path by 16 km, but these 16 km along mountain roads overlooking the fjord are worth a look, tunnels can be seen everywhere.
However, if you do choose to drive through the tunnel, you must register your vehicle at www.veggjald.is to pay the fare. If you accidentally drove into the tunnel, then you will have 24 hours to pay the fare at the standard price. And if you do not pay the fare at all, then the car rental company will do it later along with a fine, which will cost you more.
There used to be a toll tunnel Hualfjörður that connects Reykjavik with Akranes. The length of the tunnel is almost 6 km, of which 4 km are under the seabed. The lowest point of the tunnel is 165m. below sea level. But in September 2018, this tunnel became free!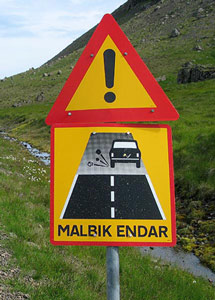 Most often, accidents occur in places where an asphalt road passes to a gravel one. The main reason is that drivers do not slow down when changing to gravel and lose control. Therefore, there is always a special sign before the start of a gravel road.
You also need to be aware of the stones that can fly out from under the wheels of the car in front, or the oncoming car, and stay away from them. Narrow bridges are also often found, sometimes, if such a bridge is long, then in the middle there is a small pocket for passing with an oncoming car.
The general speed limits in Iceland are:
50 km/h in the city
80 km/h on unpaved road
90 km/h on asphalt
If you are unsure or the area is not marked, it is best to assume that the limit is 50 km/h. In some areas, signs encourage you to slow down, but drivers are generally expected to use common sense and choose a safe speed based on conditions. More common are signs that indicate certain hazards ahead, such as tight curves or exposure to high winds.
For safety reasons, drivers are legally required to keep their dipped headlights on at all times, even in summer when the sun is not setting. Blind turns are common, and of course winters are known for their long hours of darkness. Even at noon it is hardly brighter here than in the twilight hours.
As in most countries, all passengers are required by law to use seat belts. Driving under the influence of alcohol or using a mobile phone while driving is strictly prohibited. Fines for speeding are high, with many traffic cameras installed throughout the country.
Driving on F-roads is legal if you rent a 4x4 or AWD, and only if they are open. It is illegal to drive on any roads that are closed for safety reasons.
The fragile and delicate nature of the Icelandic wilderness means that off-road driving is strictly prohibited. This is punishable by heavy fines and even imprisonment for up to four years. Much of the country's volcanic landscape has been shaped over millions of years, and the beautiful moss that slides down the slope has been growing there for centuries. Careless driving through vegetation will cause damage that can take decades to repair.
Children under 6 years of age should only travel using a suitable child restraint system appropriate for their weight. Children under 150 cm tall must only travel in the rear seats.
If you have been involved in an accident or need urgent assistance, please call the emergency number 112.
Parking:
Parking problems can only be in the old historical part of Reykjavik. Finding a place in the narrow streets is not easy. In other cities of the island and the main attractions there are no problems. Parking spaces near waterfalls, geysers, volcanoes are not paved, but only gravel and fenced with posts with ropes.
You should also trust road signs. If there is a sign "sheeps" - slow down, they will most likely appear on the road and, if some of them were on opposite sides of the road, they will run to each other right in front of the car. And there are a lot of sheep in Iceland! There was a sign with reindeer and after 100 meters a whole herd was grazing, behind the sign "rockfall" a boulder lay on the road.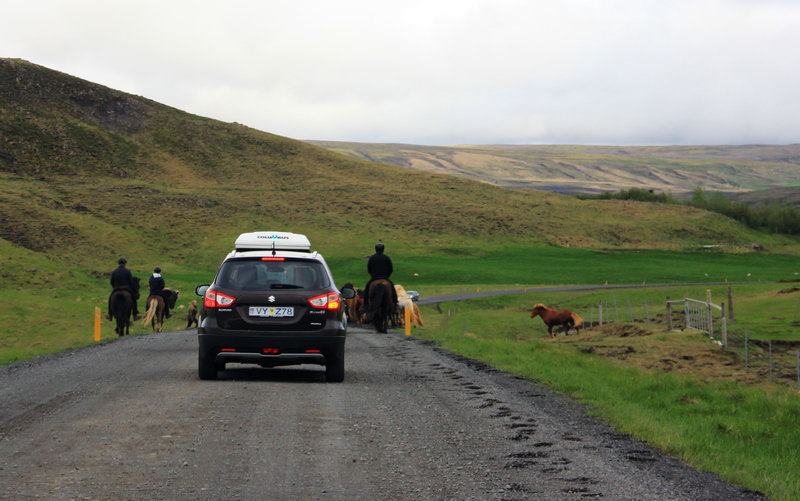 Prices for gasoline in Iceland
The cost of gasoline fluctuates:
from 2.12 EUR per liter of the 95th
from 2.19 EUR per liter of diesel
Current prices can also be viewed at globalpetrolprices.com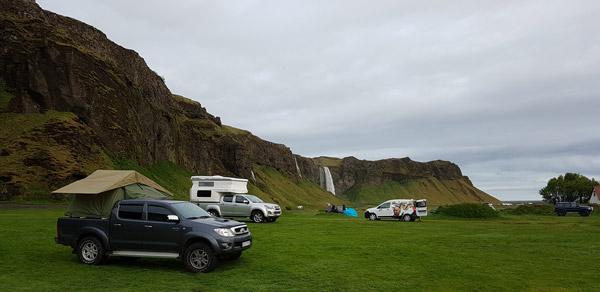 Roads in Iceland. Ring road, gravel roads and F-roads
The most popular and most used road in Iceland is the ring road, which is also road number 1. Most tourists drive along it, because it encircles the entire island. This road has one lane in each direction, but since there are few cars in Iceland, as well as people, traffic jams, if any, are found only in the Reykjavik area.
This road is well maintained and is regularly cleared of snow in winter. But the weather in Iceland is unpredictable, so even here there are surprises, and the road may be closed. Therefore, when traveling in Iceland, it is always worth checking the condition of the roads on the official website road.is
There are also one-lane bridges on the ring road, and if there is no additional sign, then whoever drove up first is the first to go, so do not forget to slow down.
Also, most of the roads near tourist attractions and large towns are paved, but this does not mean that if you turn to the side, you will not stumble upon a dirt road. Usually it is also in good condition, but you should still be careful - do not drive close behind the car in front (rocks jumping out from under the wheels are not very pleasant), and also slow down on sharp turns - after all, there may be another car around the corner.
Iceland's road network is 12,890 km long. But there are only 4,782 km are covered with asphalt, the rest are unpaved.
But do not be afraid, these are still Icelandic gravel roads - an almost perfect surface, without holes and potholes. All (or almost all) unpaved roads are regularly leveled by graders.
Also keep in mind that not all gravel roads are the same. Roads 300 m above sea level are classified as high mountain roads in Iceland. They are marked with the index F - this means that the road passes through mountainous terrain and can be difficult to pass. Therefore, only four-wheel drive (or AWD) vehicles can drive on such roads. But most of these roads pass through the mountainous region in the center of Iceland - the Highlands.
When you rent a car in Iceland, you should consider which part of the island you are going to and what roads are there. Also, some roads may be closed in the "off season", because they are not cleared of snow and not passable by car (however, this does not mean that you cannot go on a snowmobile tour). At the beginning of summer, high mountain roads can also be closed due to the fact that the snow has not yet melted. It is impossible to determine the exact dates for the opening of such roads.
Under the terms of many car rental companies in Iceland, if the car is not four-wheel drive, then it is not allowed to drive on F-roads, but if you still went there and something happened, then this is not considered an insured event, and all damage you will cover at your own expense. Therefore, it is important to think over your route in advance and not try to conquer off-road on a rental sedan. If you have no experience driving on mountain roads, you should not go there either.
It is cheaper to choose and rent a four-wheel drive car from local small companies, especially since the booking process is the same - guidetoiceland.is.
One of the most common damages in rental cars are scratches from stones flying out from under the wheels of cars in front. And all rental offices offer to buy additional insurance for this case. This insurance (unlike the usual one) covers damage to the bottom and glass parts of the car, which can really be relevant.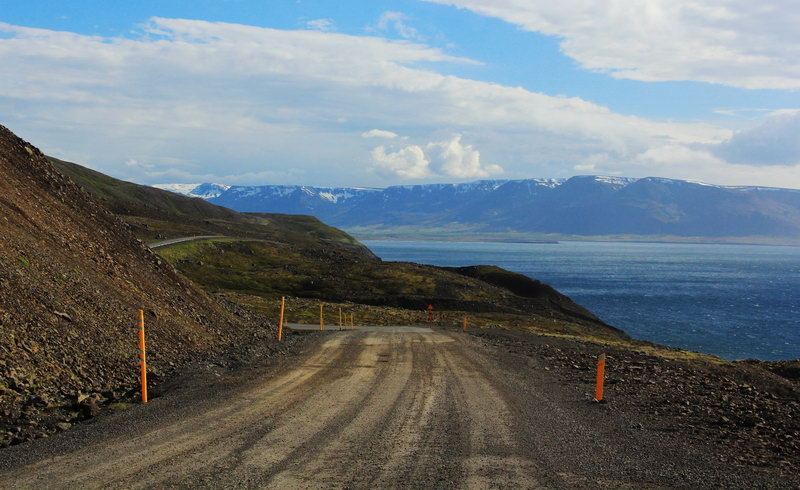 Unpredictable Icelandic weather - things to keep in mind?
The unpredictable weather in Iceland can sometimes make it difficult to drive even on the ring road. During the winter months, blizzards, high winds, thick fog, icy roads and perpetual darkness can make even the simplest trips difficult, and you need to be prepared for such conditions.
Before you go anywhere, check the weather in Iceland on the website of the Icelandic Meteorological Office. Pay attention to bad weather warnings and always exercise caution, especially if you are not experienced driving in such conditions.
In summer, the weather in the west and south is usually much less severe, but it is always wise to check the forecast before starting the day. All in all, drivers who are aware of the weather, road conditions and their driving skills will be able to drive safely and enjoy the incredible beauty of Iceland.
Make sure you know the rules and take all necessary precautions.
FAQ
How to rent a car cheaply in Iceland?
The best way to rent a car cheaply in Iceland is to use the car rental search engine on guidetoiceland.is and compare prices to find the most affordable cars. On this site you will find a comparison of offers not only from international companies, but also from local Icelandic car rental companies. This ensures that you will find the best cheap car rental options.
Why should I rent a car in Iceland?
Renting a car in Iceland allows you to explore the country at your own pace, go off the beaten path and do what you want on your own schedule. Even if you do not want to plan a trip by yourself, but do not mind going on a trip by car, then you can order a so-called self-drive tour. This is a tour where you choose what you want to see, for how many days, in what conditions you want to live, and everything else will be done for you - you just have to steer and enjoy the beauties of this northern island. Self-drive tours.
How much is the cheapest car rental in Iceland?
If you are wondering how to rent a car cheaply in Iceland, the Toyota Aygo starts at $51 for one day during the low tourist season. However, if you rent a car for more than 1 day, then the price will be around $37. It's inexpensive if you're looking for the most affordable car, but rental rates are usually closer to $70/day during high season.
What kind of car to rent in Iceland?
Choosing the right rental car in Iceland depends on how many people are in your group, how much luggage do you have in common and where do you plan to go. We recommend renting a camper if you plan to use your car as a motorhome.
If you mostly stay in the city and stick to paved roads, hiring a small and cheap car is sufficient for sightseeing. However, if you want to go hiking to remote places or visit them in winter, your best bet is to rent a 4x4 off-road vehicle. And even this does not guarantee that you will be able to drive everywhere.
How long does it take to get around Iceland?
You can drive the Icelandic Ring Road that circles the entire island in one day if you don't stop, but that way you don't make the most of your time. We recommend renting a car for at least 4-5 days for this trip so you can stop along the way and enjoy the sights. Most people choose to spend 7-14 days exploring the island.
How old do I have to be to rent a car in Iceland?
To rent a car in Iceland, the driver must be at least 18 years old and have a valid driving license for at least 12 months. However, some car rental locations require the driver to be at least 20 years old, or a small daily fee may apply if the driver is under 20 years old. You must be 23 years of age to rent a minibus or 4x4 car.
How much does it cost to rent a car in Iceland?
It depends on the season and the type of car. In the low season, from October to April, cars can be rented for as little as $40 per day. However, the average cost of renting a car in Iceland is around $75 per day.
Can I pick up a rental car at Keflavik International Airport in Iceland?
Yes, many car rental companies in Iceland allow you to pick up your rental car at Keflavik Airport shortly after landing. This will allow you to travel directly to Reykjavik from the airport or stop by the Blue Lagoon and soak up the warm geothermal waters after a long flight. When heading home after a trip, you can also leave your rental car at Iceland International Airport, allowing you to drive to the airport when you leave the country.
Can I rent an electric car in Iceland?
Yes, some rental cars in Iceland are electric or hybrid. These include electric vehicles from car companies such as Tesla and Toyota.
Can I charge rental electric vehicles while traveling in Iceland?
Yes, since Iceland is rich in geothermal energy, charging stations can be found at many gas stations and parking lots throughout the country. It's good to plan ahead where you'll be stopping and charging along the way, and what you can do while the car is charging.
Can I pick up or drop off a car at Reykjavik Airport in Iceland?
Yes, some car rental locations are located at Reykjavik Domestic Airport, close to the city centre. There you can conveniently pick up your rental car or leave it when you fly to another part of the country.
Is it expensive to rent a car in Iceland?
The cost of renting a car in Iceland varies depending on the model and time of year. The cost of 4x4 vehicles that can cross rivers is higher than the price of a small car designed to drive on paved roads. So the cheapest car rentals in Iceland can cost as low as $37 per day (out of season), while SUVs can cost hundreds of dollars, depending on the model.
What is the speed limit in Iceland?
The general speed limit rules are as follows:
The speed limit on motorways in Iceland is 90 km/h.
The speed limit on gravel roads is 80 km/h.
The speed limit in cities is 50 km/h.
The speed limit in residential areas is 30 km/h.
Apart from these general rules, speed limits in Iceland are well displayed on yellow circular speed limit signs. Drivers should follow them for safety reasons and be aware that speed cameras are quite common along the roads.
Is my driving license sufficient to rent a car in Iceland?
In order to rent a car in Iceland, the driver must have a license written in the Latin script that is at least one year old. Upon receipt of the car, you must present a physical copy of your rights. An international driver's license is required if the driver's license is not written in Latin.
Most rental companies also require a valid credit card (not prepaid/debit) in the name of the main driver.
Do I need an International Driving Permit to rent a car in Iceland?
You can rent a car in Iceland with your national driver's license as long as it is written in the Latin alphabet (like English). If your national driver's license is written in a different alphabet (such as Cyrillic or Chinese), it must be accompanied by an International Driving Permit.
Can I rent a car in Iceland and drive around the Golden Circle on my own?
Yes, renting a car in Iceland to see the wonders of the Golden Circle is a great and quite economical way. Since the Golden Circle Road is paved and well maintained, the simplest car is enough to travel this famous route.
What type of rental car is best for a self-guided tour of Iceland?
In summer, small non-4WD vehicles are sufficient for most of summer tours. Self-guided tours are usually on paved roads, and it's easy to drive in summer weather conditions.
In winter, we recommend renting a 4x4 car or SUV to be prepared for snowy conditions.
What is the best car rental comparison site in Iceland?
Guide to Iceland collects all the available car rentals from over 40 car hire suppliers in Iceland, giving you the best way to compare prices and find the perfect rental car for you.
What is included in a car rental in Iceland?
Features included with your rental car in Iceland may vary. Please read the description carefully and review the "included" section before completing your booking. Rental cars usually include unlimited mileage and CDW insurance. CDW insurance covers all damage you may cause to your vehicle, as well as compensation for people injured in an accident. Many Icelandic campers also offer free camping equipment, but be sure to read the vehicle description as camping equipment can vary.
Do I need a 4WD car in Iceland?
Whether you're just planning a trip around the Reykjavik area or driving around the island on paved roads like the ring road, you don't need a 4x4 rental. However, we recommend renting a 4x4 car if you plan to drive outside the city in winter.
What are the best car rental companies in Iceland?
Not taking into account international companies whose rating is usually not based on reviews in a particular country, then among the Icelandic car rental companies it's Lotus Car Rentals, Go Car Rental Iceland, Blue Car Rental.
Can I rent a car in Iceland and drive to see the northern lights?
Yes, renting your own car is a great way to get out of the city and go in search of the Northern Lights in the Icelandic countryside, away from the light pollution of populated areas. Just be mindful of the weather and that you may need a 4WD car in the winter.
Can I rent a camper or minibus in Iceland?
Yes, you can rent a camper in Iceland. This is a great way to increase mobility while traveling around the island. Camper rental offers you the freedom to stay in specially designated campsites that you can find throughout the country.
Can I return a rental car in Iceland earlier?
Yes, early return of a rental car is allowed in Iceland, but there will be no refund for the rental unless the change is requested before the date of pickup. Depending on your car rental, you may be able to return your rental car earlier at Keflavik Airport in Iceland or Reykjavik Domestic Airport.
Can I rent a car in Iceland for a day?
Yes, you can rent a car for just one day. Simply select the day you plan to rent a car in Iceland and view the available options.
Which roads are rated F in Iceland?
Iceland's F roads are so-called mountain roads ("F" stands for "Fjall", the Icelandic word for "mountain") in the Icelandic highlands, which are difficult to drive and are usually closed in winter.
Driving on Icelandic F roads requires an FWD or AWD vehicle. It's also important to check the road conditions on the Icelandic Road Administration website before heading into the highlands on F-roads.
Do rental cars in Iceland have winter tires and snow chains?
All car rentals in Iceland come with winter tires from November 1st to April 14th. Snow chains are not allowed in Iceland because they damage paved roads and are not usually necessary.
What happens to my rental car in Iceland if my flight is delayed?
If your flight is delayed please notify the car rental company in Iceland directly at the phone number on your voucher. Including your flight number when booking will help the car rental company track your flight and be aware of any changes ahead of time.
Is it possible to rent a car without a deposit in Iceland?
Most car rental companies in Iceland require a deposit. Be sure to read the information about the requirements of the company
Which side of the road do people drive on in Iceland?
In Iceland, driving is on the right, which means cars keep to the right side of the road. However, this was not always the case. Iceland used to drive on the left side of the road, but since May 26, 1968 it was decided that cars should keep to the right side of the road, and this rule has remained in force ever since.
Do I need a credit card to rent a car in Iceland?
To rent a car in Iceland, customers must present a valid credit card in the name of the primary driver. If the person registering for the car rental does not have a credit card, the additional driver must be registered using their credit card and must have a valid driver's license. If a credit card is not available, the car rental company will require a deposit. The amount may vary depending on the car rental company, but not all companies accept cash deposits.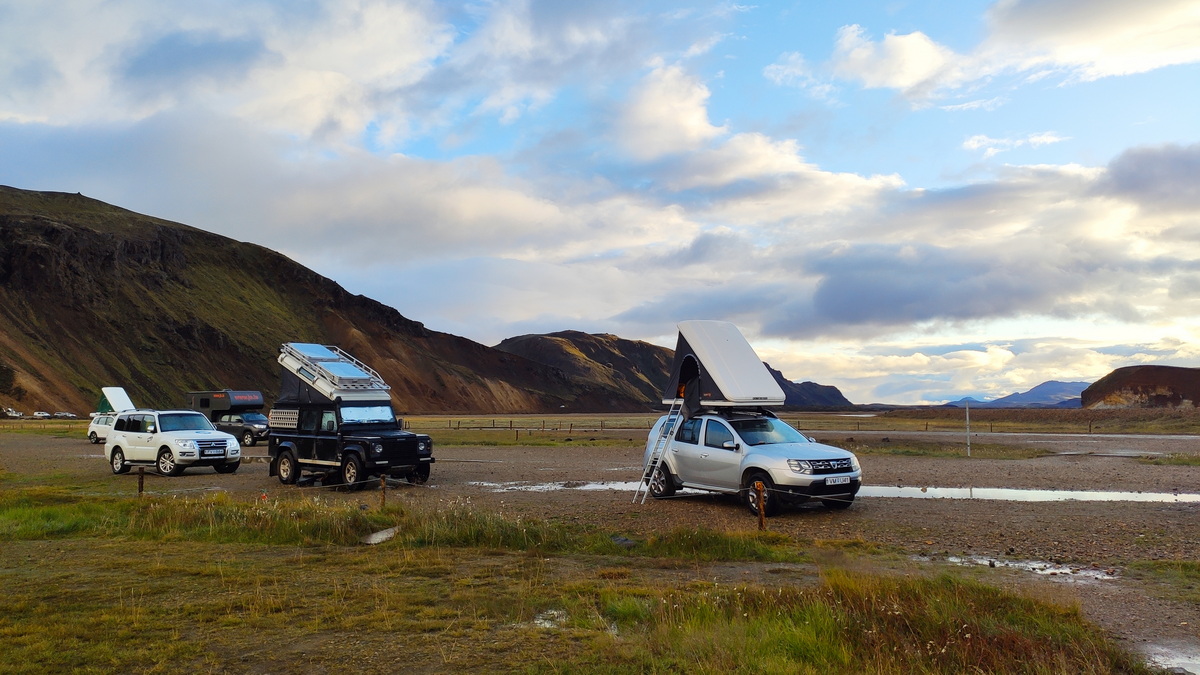 Discovering the highlands on F-roads in a 4x4 car is an exciting way to enjoy a true adventure. You'll encounter lunar-like landscapes, expansive river plains, and imposing mountain ranges. This terrain is ideal for hiking, offering breathtaking vistas and occasional hot springs scattered throughout. Here's what you should be aware of before setting out on your adventure.