Where is Iceland located and what is this wonderful country about which everybody talk about and write so much and which almost everyone dreams of visiting?! What is there in Iceland that is not in other countries? Iceland is ice and fire, volcanoes and waterfalls, black beaches and emerald green!
This country will not leave anyone indifferent! You will fall in love with Iceland as soon as you set foot on its land. At the very first moment, you will be enveloped in a light ocean breeze, and a little later, the sulfurous smell of smoking volcanoes will be added to the smells. While enjoying the hot springs, you will admire the untouched nature around you.
In winter, the Aurora Borealis will illuminate the dark nights and be reflected in the waters of deep and clear lakes, and in the summer, the non-setting polar sun will allow you to enjoy the sights of Iceland 24 hours a day!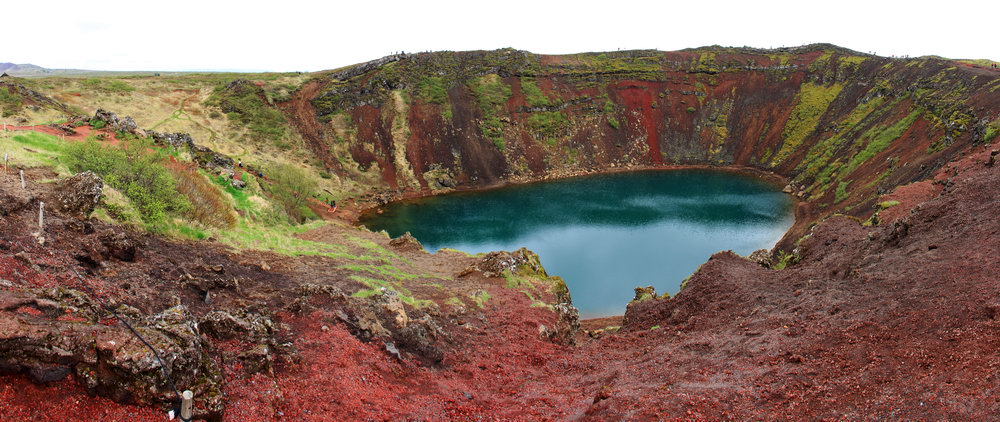 Where is Iceland located?
Iceland - located in the north of the map of Europe, in the northwest of Great Britain. Reykjavik is the capital of Iceland, located in the southeast of the island. Iceland is an island state and more than 2,000 km separate it from the nearest coast of continental Europe.
And since Iceland is an island, then here you need to either fly by plane or take a ferry. 
Climate in Iceland
Iceland has a maritime subarctic climate, but even here the warm Gulf Stream makes itself felt. As a result, the coast of Iceland has a rather mild climate with not very frosty winters averaging about 0 degrees, but very snowy and not very warm summers. Although sometimes the temperature in summer in the sun can reach 25 degrees.
At the same time, the climate of the central part of Iceland is characterized by colder average temperatures.
When is the best time to visit Iceland? Many will answer that it is best to go to Iceland in the summer when it is warm, more stable weather and less rainfall and they will be right, but only partially - after all, winter in Iceland has incredible snow-covered landscapes, frozen waterfalls and northern lights!
What to see in Iceland, map of attractions
The tourist gateway to Iceland is its capital, Reykjavik. After all, from this city that most trips in Iceland begin.
What you can find in Iceland? Iceland is rich in natural attractions, but there are also cultural ones here. Each region is somewhat different from the others, each has its own unique atmosphere. Even if you have very little time, only in Reykjavik and near, on the Seltjadnarnes and Reykjanes peninsulas there are attractions such as the Blue Lagoon, the Gunnuhver thermal field. The Golden Circle route with geysers, volcanoes and the Gullfoss waterfall are also nearby.
For convenient planning of an independent trip to Iceland, we have created an interactive map on which we have collected all the most important and interesting sights of Iceland.
And if you are too lazy to plan by yourself, you can always join a group of the same adventurers, where everything is already planned and thought out. We recommend GuideToIceland self-drive tours - they will prepare everything for you: car, detailed plan, accommodation, and you can choose what to add as an additional experience whether it's glacier or horse riding - it's your choice.
Regions of Iceland
Iceland is divided into 7 regions plus Reykjavik, which appears separately in all descriptions of the country and attractions. Sometimes the Highlands, which is located in the center of Iceland, are singled out as a separate region. But, in general, Highland in Iceland is called all areas of the island where the height exceeds 1000 meters. Also in tourist guides, the northeastern and northwestern regions are often combined.
In each of the regions of Iceland there are many attractions. Some of the regions can be easily and quickly reached by a regular passenger car from Reykjavik, some can only be reached by a 4WD or AWD vehicle, and only in summer.
Westfjords - Land's End in Iceland
North of Iceland - history, horses and beautiful landscapes
South Region of Iceland - most popular among tourists
East Iceland - deep fjords and magical highlands
West of Iceland - the gateway to the capital of Iceland
Reykjanes Peninsula - international gate with Keflavik airport and famous Blue Lagoon
Reykjavik - metropolitan area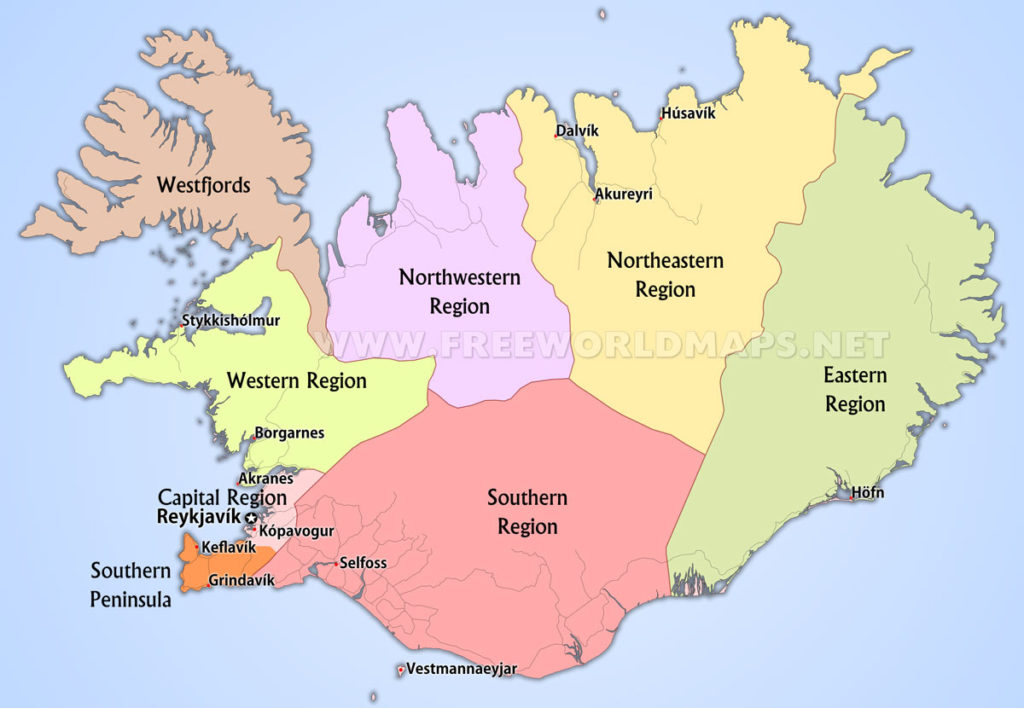 How much does a trip to Iceland cost?
Each trip consists of different costs:
Housing cost
Hostels cost 3500-7500 ISK per night and Hosteling International (HI) members get a 10% discount. Private rooms cost around 10,000 - 15000 ISK per night.
Hotels are usually more expensive than hostels and guesthouses. It is worth remembering that not all hotel rooms will have their own bathroom. Expect to pay around ISK 20,000 per night for a double room with a private bathroom and around ISK 15,000 for a room with a shared bathroom. Of course, there is always the opportunity to rent a room or apartment from local residents using the Airbnb service!
If you are staying at a campsite, then a place for a tent and two people will cost you 1500-2500 ISK per night per person.
Cost of food in Iceland
Food, even fast food, costs from 2500 ISK per serving on average. At this price, you can buy sandwiches, kebabs, soups and other "fast food". In some open stalls you can find small sandwiches for around 1500 ISK. Plan to pay at least 3,000 ISK for a main course at a self-service cafe. Beer in Happy Hours costs about 800 ISK, otherwise prices range from 1000 to 1500 ISK.
Basic groceries bought at the supermarket (pasta, eggs, skyr yogurt, rice, chicken and some vegetables) will cost around 9000 - 11000 ISK per week. An inexpensive snack option can be hot dogs, which cost around 500-700 ISK. Also, not very expensive food can be found at gas stations.
Transport
During the summer months, you can buy a bus pass for most popular routes. Available routes could be found on official site www.icelandbybus.is .
Bus tickets start at 470 ISK (one trip in Reykjavik). A popular bus route that runs from Reykjavik to Akureyri costs around 8800 ISK.
Sometimes it's more convinient and cheaper way of travelling is just rent a car especially if you travel with friends or family. Hitchhiking is a great way to save money on travel, especially if it's warm outside, hitchhikers are very active in Iceland.
If you decide to rent a car, then local firms have much better rates than large international corporations, so go to the "local" car rental aggregator guidetoisland.is and read the article:
Culture, history and traditional cuisine of Iceland
The culture of Iceland has developed in the harsh northern conditions, but still it has not lost its cheerfulness, and with the fact that Iceland is quite isolated, it has remained almost untouched, independent and authentic. The first settlers in Iceland were farmers and warriors who were not ready to put up with the tyranny of Scandinavia. The development of new lands began with the construction of farms and settlements that were ready to withstand the harsh Icelandic climate. Of course, the Icelanders did not forget about the cultural part of life: Icelandic folklore is rich in myths and sagas, which were based on real battles, exploits and battles.
Icelandic cuisine can impress even the most experienced gourmet, such as saltur, hakarl, harofiskur and many others. The names do not say anything about the content of these dishes. But if you think about what they are made of... decayed shark meat, sheep offal, mutton eggs and a sheep's head baked with eyes.
In fact, in Icelandic traditions there are many dishes that are more pleasing to our eyes and stomach, mostly prepared from seafood.
Of course, the Icelanders cared not only about food, but also about drinks. For example, the traditional Icelandic beer "brennivin", made from potatoes and flavored with cumin.