When to go to Iceland, when it is warm here, when is the best season? These questions bother everyone who is going to go to Iceland. In summer it is warm and there is less rainfall, but there are white nights and there is no chance to see the aurora borealis. Let's figure out  when it's better to go to Iceland.
Often people are wondering when is the best time to visit Iceland, when it is warm in Iceland or vice versa - cold. As you know - nature does not have bad weather, all seasons in Iceland have their advantages and characteristics. So let's figure it out...
First, let's bust a couple of myths about the weather in Iceland.
First, the winters in Iceland are not as cold as is commonly believed. The Gulf Stream passes off the coast of Iceland - a warm current that heats up in tropical latitudes, transfers heat to the north and does not allow the air to cool much. Therefore, the coast remains relatively warm all year round.
Conversely, summer is never too hot. So while Iceland has all four seasons, the temperatures are not extreme at all. True, sometimes all four seasons are replaced several times a day. So it's better to have transport near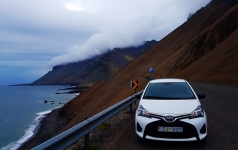 Rent a car in Iceland - how to choose proper car, what is the cost of renting a car, is it worth taking full insurance, where you can drive a car, and where you have t...
Even with such a small variation in temperatures in Iceland, there is an expressed tourist season from mid-June to mid-September, it is at this time that most roads, even in the highlands, are already open. The weather is more stable and the sun shines more often, and rather warm weather makes it possible to admire the Icelandic landscapes without wrapping yourself in a warm down jacket. But do all tourists come to Iceland only in summer, or maybe in another season?
Weather and precipitation in Iceland
In the winter season, precipitation in Iceland, although more, is insignificant. Rainy days in winter are 12-13, and in summer 9. Also in summer it is warmer in Iceland, sometimes on sunny days the temperature can reach 20-25 degrees Celsius in the sun. But most often there is "spring" weather and the temperature does not exceed 15-17 degrees.
In winter, on the contrary, in Iceland you can go to warm up, because here the temperature very rarely drops below 0.
The weather also depends on the region of the island to which you are heading.
Now let's take a closer look at all the advantages and disadvantages of the seasons.
Spring in Iceland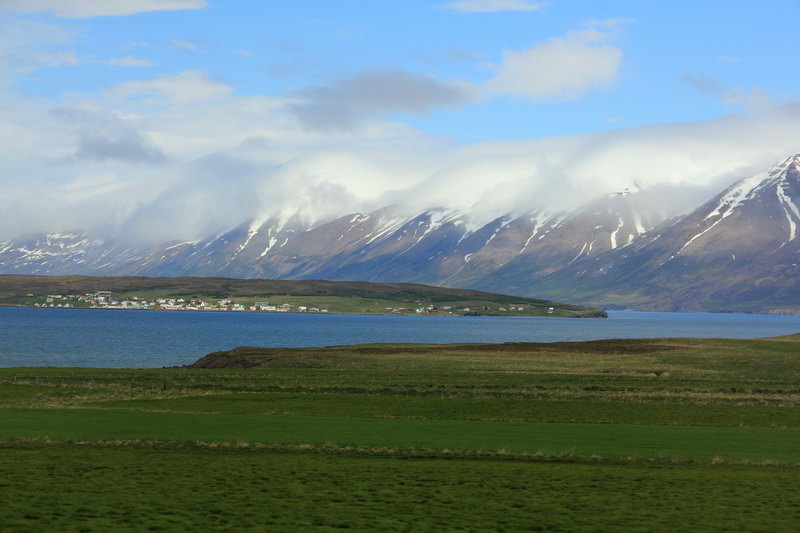 Off the northern coast of Iceland, drifting ice floes accumulate. The air temperature gradually rises from +4 °C in March to +10 °C in May. But the weather remains unstable and can change drastically every hour.
The length of daylight hours also increases significantly. Birds that nest in the summer in Iceland return from the south, and the mating season begins for whales. Snow begins to melt actively in the mountains, water flows to the sea and all the waterfalls in Iceland are gaining strength, which attracts many tourists.
It should be borne in mind that many roads in the mountainous part of the island may still be impassable due to the large amount of snow and are closed.
Spring temperature in Iceland (April-May):
Average maximum: 7-10°С
Average minimum: 0°C
Daylight hours:
| | | |
| --- | --- | --- |
| Month | April | May |
| Daylight hours | 15 hours | 18 hours |
Pros of spring in Iceland:
The snow is melting and the flowers are starting to bloom.
Good, but a little cool weather, but there are still not as many tourists as in summer and prices are still not so high
Puffins begin to arrive - birds that are a symbol of Iceland (they nest here from April to August)
You may still catch the Northern Lights (in March and early April)
Good day length
Good weather
Less tourists
Cons of the spring season in Iceland:
This is not a typical warm spring. Often in Iceland you may need a coat or a warm jacket.
Some roads are closed
Summer in Iceland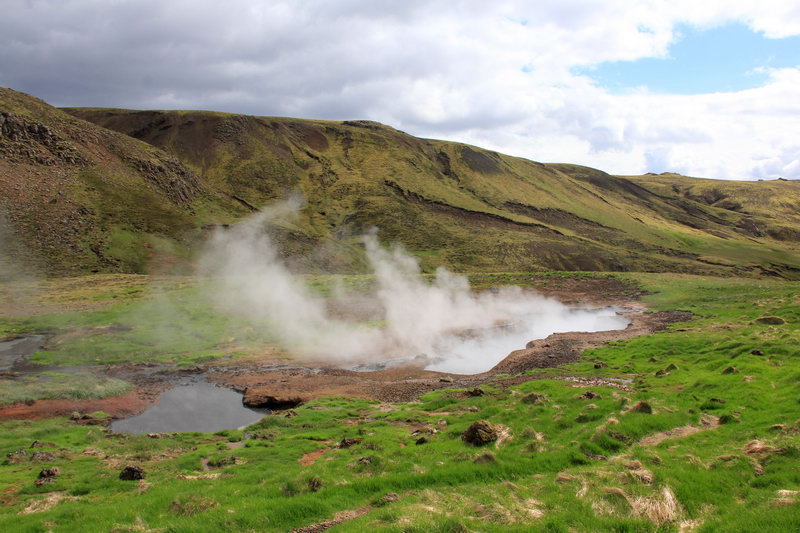 Observations show that the warmest summer month in Iceland is July. The air temperature on a sunny day reaches +15-20°С. July and August are considered high tourist season in Iceland.
Also, from the end of spring, the season of white nights begins, when the sun practically does not go beyond the horizon and it is light all day and night.
One of the best places in Iceland to experience midnight sun is Husavik. This is a small fishing town. In the summer there is daylight almost round the clock.
This place has become truly famous thanks to the whales, Husavik is called the "whale capital". The city has a whale museum, and from the port you can go on a tour and watch whales in natural conditions. Thanks to modern equipment, the organizers of such tours promise a 98% chance of meeting tourists with these huge marine inhabitants. Whale watching season lasts all year round, but if you want to see some of the biggest humpback whales, the whale watching season runs from mid-April to early September.
Summer temperature in Iceland:
Average maximum: 15-18°С
Average minimum: 7°C
Daylight hours:
| | | | |
| --- | --- | --- | --- |
| Month | June | July | August |
| Daylight hours | 20-22 hours | 20-22 hours | 16 hours |
Advantages of the summer season in Iceland
Long Summer Days and Midnight Sun (Longest Day - June 20th)
More stable weather and greenery around
Many animals and birds - sheeps, ponies, puffins and other birds
Best time for whale and killer whale watching
Greater comfort if you are traveling with a tent
Summer music festivals, many tours, hiking
Roads in the Highland region are open (access to Landmannalaugar and Torsmork (Þórsmörk), as well as hiking on the route Laugavegurinn, Fimmvorduhals (Fimmvörðuháls))
Cons of the summer season in Iceland
Peak tourist season / more people at all major attractions
Higher prices for everything
Difficulties in finding housing
Light around the clock - some people say they can't sleep in the light
Not very "summer" weather, compared to the classic summer. More like September-October.
Autumn in Iceland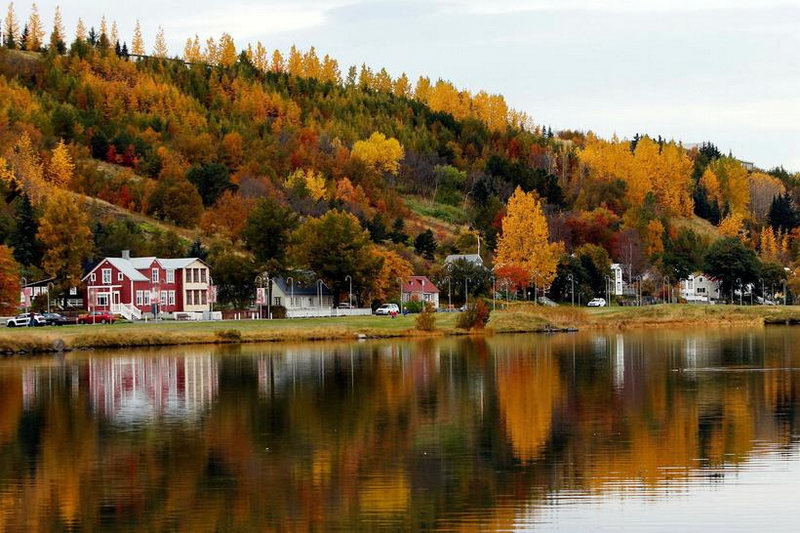 September in Iceland is still a relatively "summer" month, and in October the weather deteriorates sharply, which is explained by the passage of cyclones through the ocean. In November, a dark period begins, when the Sun is very low, and daylight hours last no more than 5 hours.
In this regard, from September to April, prices for tours and excursions in Iceland fall.
Temperature in autumn in Iceland (September-October):
Average high: 7-13 ° C
Average minimum: 2°C
Daylight hours:
| | | |
| --- | --- | --- |
| Month | September | October |
| Daylight hours | 13 hours | 9 hours |
Pros of the autumn season in Iceland:
The golden color of the trees (which is hard to find in Iceland)
"Normal" daylight (meaning both light during the day and dark at night)
First Northern Lights of the season, possibly first snowfall
Prices are lower than in summer
Less tourists
Cons of the autumn season:
The weather is quite unpredictable - windy, humid and sometimes quite cold
Autumn colours can be skipped entirely, depending on the month and the weather.
Winter in Iceland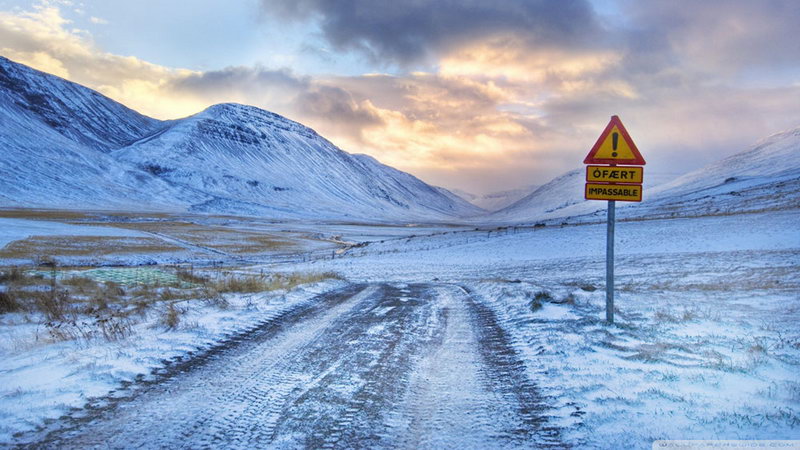 There is no polar night in Iceland, but in winter the sun hangs very low over the horizon, and this period lasts from mid-November to early February.
The main advantage of the winter season in Iceland is that you can see the northern lights, you really have plenty of time to observe it.
On December 24, Icelanders celebrate Yule, a mid-winter holiday similar to Christmas. On this day, the Yule tree is decorated and mulled wine is drunk.
The entire period from November to March can be attributed to the Icelandic winter, since the weather is approximately the same all these months. But there are no strong frosts here.
Winter temperatures in Iceland (November-March):
Average maximum: 4-7°С
Average minimum: -2 - +1°С
The weather is highly dependent on the area - the further north, the colder and more snow.
Daylight hours:
| | | | | | |
| --- | --- | --- | --- | --- | --- |
| Month | November | December | January | February | March |
| Daylight hours | 6 hours | 4 hours | 4 hours | 7 hours | 10 hours |
Pros of the winter season in Iceland:
Northern lights! It is in winter, when the sun is below the horizon for a long time, that you are most likely to see the northern lights.
Golden colours - the time of sunset and dawn lasts almost the entire daylight hours.
Snowy walks through beautiful scenery
Amazing sensations when bathing in open hot springs surrounded by snow
Ice caves and glacier tours
Christmas lights, Christmas markets, Christmas decorations, Christmas spirit.
New Year's Eve: Reykjavik ranks 5th in the world for New Year's Eve fireworks!
Snowy mountains, frozen waterfalls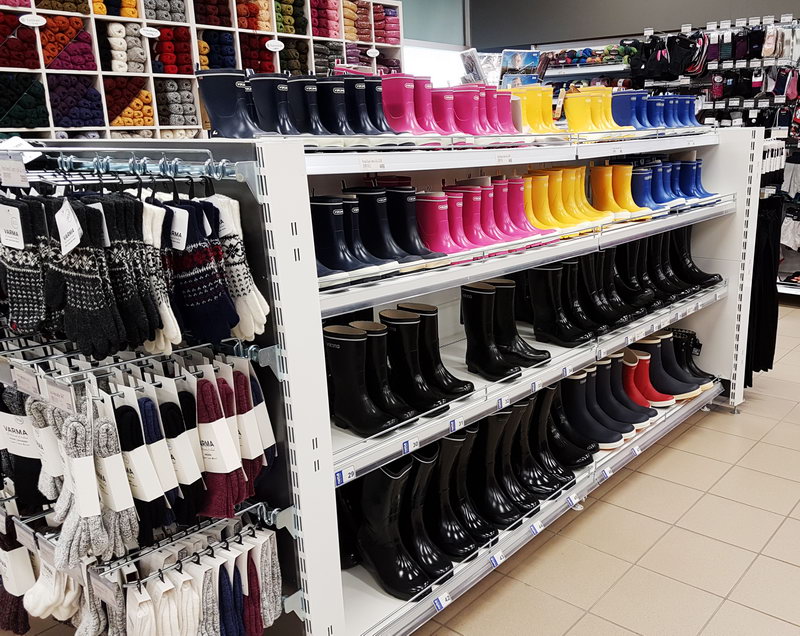 Cons of the winter season in Iceland:
Darkness - in mid-December, the sun illuminates the sky only for 3-4 hours. It can be quite tiring and also the time to explore the area is very limited.
It is cold and very damp, you need to take care of good clothes.
The weather changes very often, due to this, sometimes even major roads are closed - it is very difficult to plan a trip.
Zero access to mountain roads without special all-terrain vehicles.
No matter what time of the year you decide to visit Iceland, it will be a great time to spend among the beautiful nature.