Many have heard about the "terrible" Icelandic dishes, or rather about how they smell, look and what they are made of.
But let's see if traditional Icelandic cuisine is so bad and whether it is still worth trying some delights.
Icelanders eat a lot of fish and seafood, and prefer local lamb for meat. Icelandic skyr and cheeses made from local Icelandic milk are very popular. Also very popular is the local rye bread baked with bran and various healthy grain additives.
Speaking of traditional Icelandic food, it can be divided into several sections: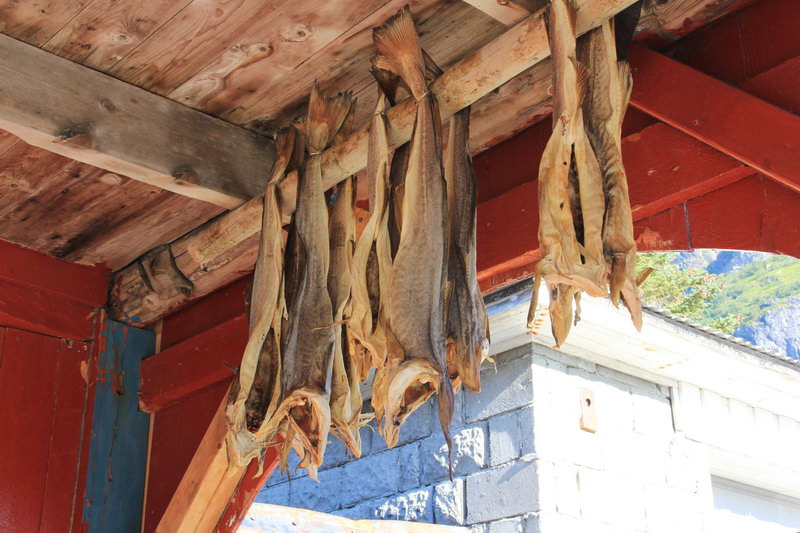 Exotic dishes
Rotten shark - Hakarl or Haukarl, in Icelandic Kæstur
Perhaps one of the most exotic dishes in Iceland, because where else in the world is it ok to eat rotten shark meat?
Hakarl is the cured meat of the Greenland Shark or Giant Shark, which are found in Icelandic waters. Shark meat is placed in a pebble-sand mixture for 6-8 weeks, now these are special boxes, but before it was simply buried. This is done so that the poisonous juices rich in ammonia flow out of the shark and meat can be eaten. After, in fact, rottenness, the meat is dried for 2-4 months in the fresh air. After that, the meat is cut into cubes and eaten.
Hakarl is very popular on Christmas and New Year holidays. In fact, only the smell scares away, the meat tastes more or less, though the aftertaste is not the best.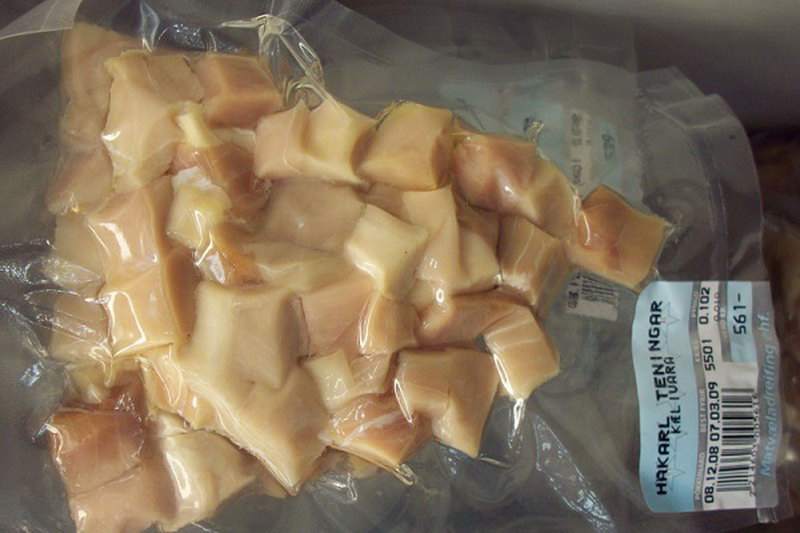 Hritspungur or Hrutspungur
This dish is not from the sea... Eggs of a young lamb are marinated in a sour milk or whey, and then the whole thing is pressed into one cake. This dish is considered festive in Iceland, apparently there are not so many eggs of a young lamb.
Svid or Svay
This dish causes discomfort by its very appearance: a ram's head sawn in half with eyes and teeth. Of course, it is pre-cleaned of wool and boiled. Sometimes it is soaked in lactic acid before cooking. They say that the tastiest thing is the cheeks and the brain, then the eyes go ... but usually no one eats the ears.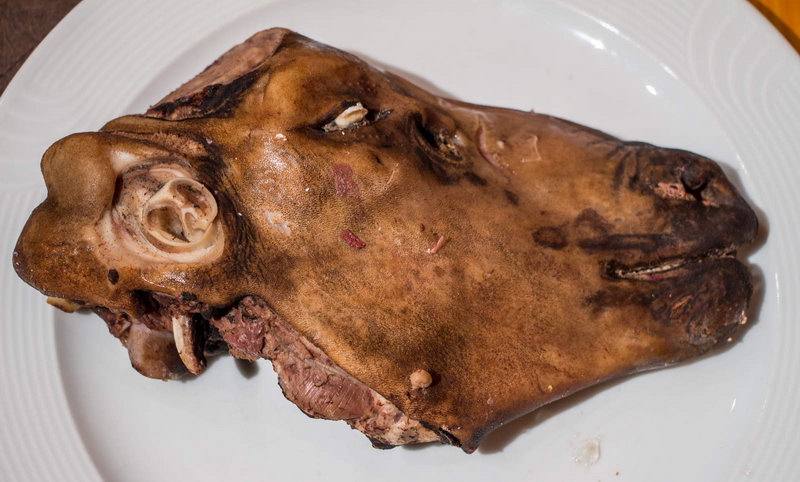 Slatur
Slatur is made from sheep's offal, i.e. from the viscera, fat and sheep blood, which are put into the stomach and sewn up. In this form, the whole dish is baked and served ... with sweet rice pudding! An interesting combination indeed?
Sea food
Fiskur dagsins - fish of the day
Everyone knows that Iceland is in the middle of the ocean, and fishing here is the most important part of life. Sea fish are caught here in huge quantities all year round. Part of the fresh catch is daily delivered to restaurants and offered to visitors in the form of a dish called Fiskur dagsins - the fish of the day. This dish may contain cod, haddock, catfish or other types of sea fish. In any case, be sure that they will bring you a very tasty dish: a portion of sea fish fillet, beautifully decorated with herbs, potatoes, vegetable garnish and delicate sauce. Average price per serving: 4000-6000 ISK.
Hardfiskur or Harofiskur
This dish is nothing terrible or frightening and is popular not only among local residents, but also among visiting tourists. Hardfiskur is a dried fish, most often it is cod or haddock. Most often, Hardfiskur is served with butter, since fish meat dried in the Icelandic winds is very dry without butter.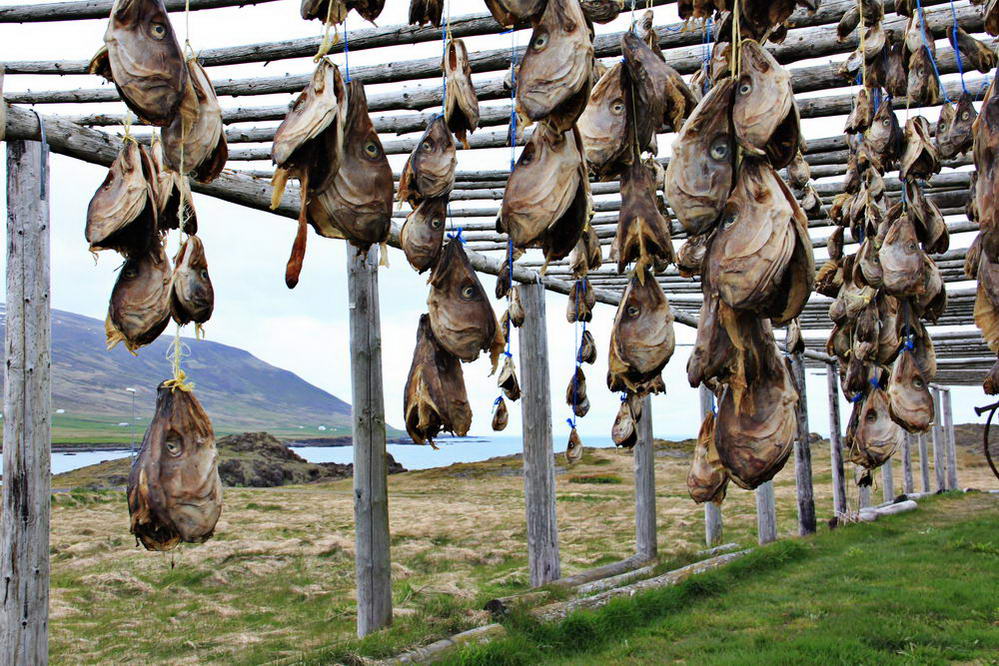 Humarsúpa - lobster soup
Humarsupa is a traditional and famous Icelandic soup. Delicious creamy soup made with lobsters. There is also a similar crab soup. It is served in many restaurants, the price of a large portion is 2900 - 3200 ISK.
Saltfiskur
As the name suggests, this dish is associated with salt and fish. The fish is covered with a rather thick layer of salt and remains in this form for some time. Salt absorbs moisture and dries out the fish. Fish prepared in this way can be stored for a very long time. Then, before cooking, the fish is placed in water for several hours (or days). After the fish is soaked, it is simply boiled and served with bread and potatoes.
Fiskibollur
Fiscibollur are medium-size fried fish cutlet that look like cheese pancake. The content of sea fish in minced meat, from which they are prepared, is at least 50%. Sometimes fish cutlets can be quite small, about the size of a meatball. Fiskibollur is another national Icelandic dish, which is served in many local cafes and restaurants, where cutlets are prepared according to their own family recipes. The price of a serving is 2700-2900 ISK.
This dish is convenient to take on the road. Ready-to-eat frozen fishcakes are also sold in any supermarket in Iceland. The average price is about 2500 ISK per kilogram.
Gravlax
The name of the dish Gravlax sounds very incomprehensible, but at the same time it is marinated salmon with dill, which is quite traditional for us.

Seald
Herring cooked with various spices, usually served with potatoes.
Sjávarréttasúpa - seafood soup
Syauvarrehtasupa - it is prepared from freshly caught fish, shrimps, mussels, langoustines, in general, everything that was caught in the sea. Onions and spices are also added, seasoned with fresh cream. Sjávarréttasúpa is served in seafood restaurants. Usually, the portion plate is filled with seafood so that the spoon does not fit. One large bowl of this soup will replace a three-course meal and fill you up completely. Often fresh Icelandic bread with butter is served with the soup.
Gellur
It is sometimes said that Gellur is made from cod tongues, which is actually not entirely true. This dish is made from the muscle just under the tongue. Gellur can be simply boiled and served with a side dish, and then it is an average dish, but if Gellur is baked in the oven with spices, then it is very tasty!
Hvalspik
Now Hvalspik is cooked extremely rarely, and some time ago this dish was considered as one of the main dishes in Iceland. Khvalspik is prepared from whale fat, which is smoked in lactic acid.
Kaistur hvaliur
Quite a modern Icelandic dish - meatballs, though made from whale meat soaked in whey.
Plokkfiskur
Plohkfiskur - fish with boiled potatoes in a creamy sauce. The national Icelandic second course, unpretentious and relatively inexpensive (by Icelandic standards), but very tasty and satisfying. It can be tasted in almost every cafe in Iceland. Outwardly, Plokkfiskur vaguely resembles poorly ground mashed potatoes. The dish is made from pieces of boiled fish fillet, usually cod or haddock, with the addition of pieces of boiled potatoes. Fish and potatoes are mixed, seasoned with a creamy sauce and baked in the oven. Served with black bread rugbraise and vegetables. 
Ready-to-eat Plokkfiskur is also sold in the meat departments of Icelandic supermarkets. Its quality is no worse than in a cafe, and the cost is lower. The dish must be transferred from the plastic package to the plate, heated in the microwave and enjoy the taste.
Pickled Seal Fins
From the name of this dish, everything immediately becomes clear, seal fins, which, as usual in Iceland, are pre-soaked or fermented.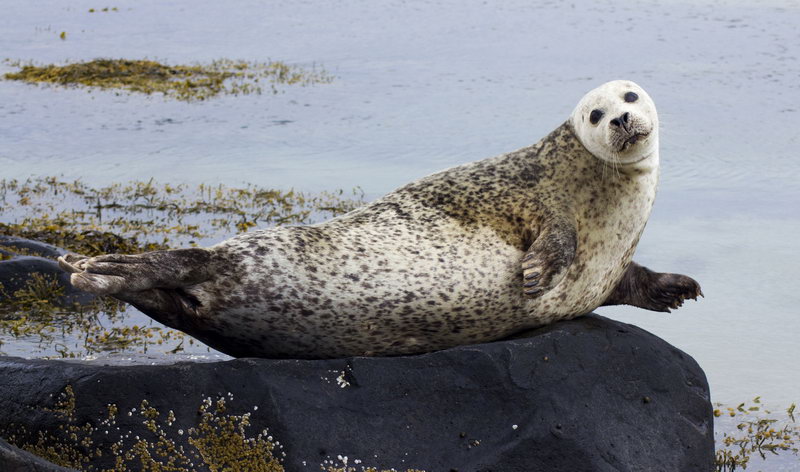 Whale meat
This is probably one of the most popular dishes among tourists. Whale meat is cooked in different ways, but the whale steak remains the most popular. Although they also cook barbecue, it goes raw with sauces, dried, etc. Minke whale meat is used for cooking, which is not under protection and is not in danger.
Meat dishes
With meat dishes in Iceland, not everything is as good as with seafood, the choice is rather poor; mainly it's lamb, although other types of meat are also found.
Lambalaeri, Lambahryggur
Lambalairi and Lambahriggur - Icelandic lamb meat. Arriving in Iceland, it would be an unforgivable mistake not to try a hot lamb dish. Icelandic mutton (lamb) is a very tender and tasty meat that does not have the typical smell of this type of meat. Icelanders love their sheeps, eat a lot of lamb and know how to cook it so that you lick your fingers. Order Lambalæri or Lambahryggur in cafe or restaurant and enjoy the unique taste of juicy, tender, melt-in-your-mouth lamb paired with vegetables and a delicious creamy sauce.
Many roadside cafes offer Icelandic lamb goulash with vegetables. A very tasty and satisfying dish.
Bleikja
Grilled mutton or lamb meat, there may be another type, the main thing is to cook it so that a coal crust forms.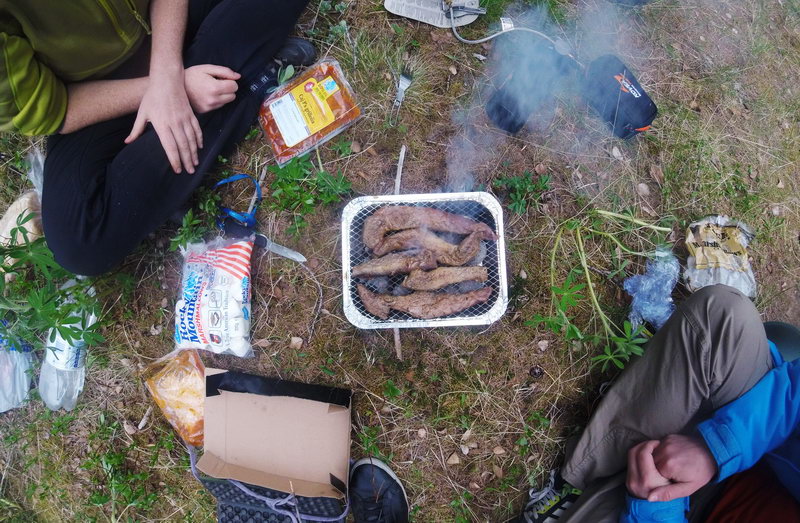 Hangikyot
Hangikjot is one of the dishes that is prepared in Iceland for the holidays. The meat of a young lamb is smoked on birch wood, but since this is Iceland, dried sheep droppings are added to the firewood for piquancy. After the meat has been sufficiently smoked and has absorbed the "piquant" aroma, it is boiled and served with white sauce and potatoes.
You can buy it already cooked, most often Hangikyot is vacuum-packed cold cuts, weighing about 200 grams, which are sold in supermarkets. And in many Icelandic cafes you can buy sandwiches with Hangikjot. 
Lundi
A dish made from poultry meat... Birds are a puffins, symbol of Iceland. The meat is cooked in milk sauce, usually breasts. Puffins are also grilled. No one is very worried about them, because there are a lot of puffins in Iceland.
Kyotsupa
Meat soup, which is prepared from the meat of a young lamb, vegetables and potatoes. 
This soup is a must try in Iceland! Relatively inexpensive, but tasty and satisfying, it is offered to visitors in almost any restaurant and cafe. Rich, fatty soup is prepared from a large amount of young lamb meat, with the addition of potatoes, carrots, onions, other vegetables, rice and spices. The soup is served with fresh bread with butter.
The soup, as a rule, is so fat and satisfying that it will successfully replace the second course too. Some Icelandic cafes outside of Reykjavik will give you a free refill. You just need to ask. On the most popular tourist routes in Iceland, near natural attractions, there are small wagons where local farmers sell delicious, homemade, freshly prepared Kjötsúpa.
Dessert
The harsh climate of Iceland is not very conducive to the preparation of sweets, and for baking, flour is required, which was not particularly available in ancient Iceland. So the Icelanders manage, though with a meager choice, but very tasty.
Laufaraus
Very thin bread, in appearance it vaguely resembles pita bread
Volcanic Bread
Rye bread which is very popular in Iceland. The main "feature" of this bread is that it is cooked in hot volcanic soil, in which forms with dough are laid. The bread turns out to be dark in color and has a sweetish aftertaste; it usually goes with butter and fish.
Kleinur
These "donuts" that can be tasted in all corners of Iceland. In fact, these are small pieces of dough that taste like donuts. It is very tasty to eat kleinur with hot chocolate in cold weather. This is how hot chocolate with kleinur is greeted at the entrance to the Kerid volcano. Right next to the parking lot is a small wooden house where you need to buy a ticket and get your portion of chocolate with kleinur.
Skyr
Not exactly a dessert, but probably the most popular fermented milk product in Iceland. It resembles thick creamy yogurt, often berries and fruits are added to it. Icelanders use skyr as a breakfast, snack, drink or dessert, used in sauces.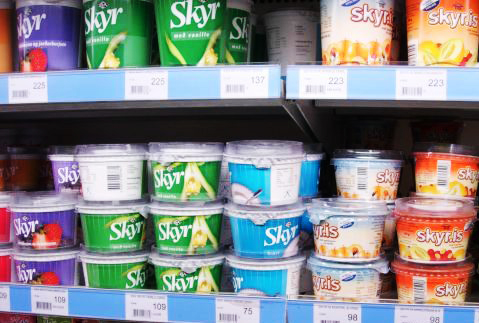 Icelanders often prepare all kinds of pancakes and desserts with berries, and of course they make jams and jams with berries.
Beverages
Coffee
Perhaps the most popular drink in Iceland is coffee, of course it is not grown anywhere in Iceland, but this does not prevent Icelanders from being zealous lovers of this drink. In Iceland, coffee is prepared not only traditionally, but also in a special way with cumin.
Brennyvin
Strong alcoholic drink, 37.5 degrees. Brennevin is made from potatoes and cumin seeds. The drink is fermented for 2-3 months, and then goes through two stages of distillation. Icelanders, during the times of the Icelandic Prohibition, gave the nickname "Black Death", because the government came up with a logo in the form of a skull and crossbones. And they usually drink Brennevin with a piece of Haukarl - a rotten shark.