Iceland is a land of stark contrasts, where rugged landscapes and stunning natural wonders coexist in harmony. Amidst the dramatic scenery and otherworldly beauty, the Blue Lagoon stands as an oasis of tranquility and relaxation. This geothermal spa is not only a testament to nature's wonders but also a masterpiece of architectural ingenuity, transforming a volcanic landscape into a haven of relaxation.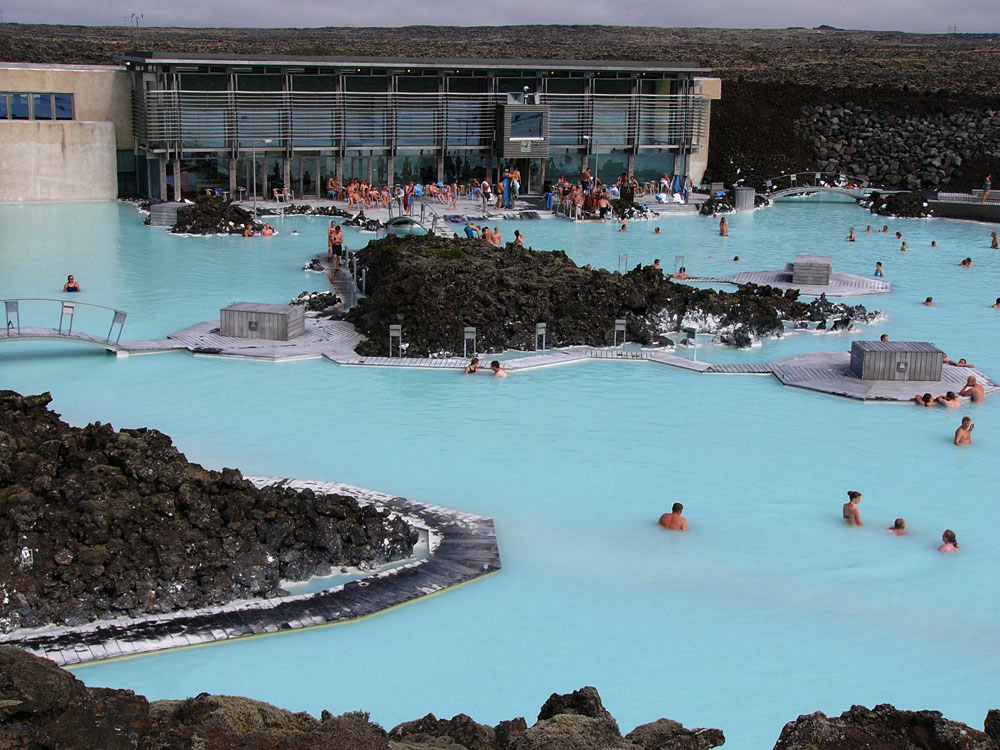 The Origin of the Thermal Water
The Blue Lagoon's thermal water is sourced from the Svartsengi geothermal power plant, a man-made wonder that taps into Iceland's volcanic activity. Deep within the Earth's crust, rainwater and seawater blend with volcanic minerals to create the lagoon's signature azure-blue geothermal water. Rich in silica, algae, and minerals, the water is not only beautiful but also known for its healing properties. Soaking in this geothermal wonder is said to have numerous health benefits.
Architectural Marvel in a Volcanic Landscape
The Blue Lagoon is not just a natural wonder; it's also a shining example of architectural innovation. The iconic milky-blue waters are surrounded by a modern complex that seamlessly blends with the surrounding volcanic terrain. The architecture of the Blue Lagoon's facilities enhances the visitor's experience, creating a sense of harmony between the man-made and natural elements.
The Blue Lagoon's striking structures incorporate sleek lines and minimalist design, making it feel as if you're stepping into a sanctuary of modern luxury. The lagoon itself is encased in a stunning combination of lava fields and rugged rock formations. The juxtaposition of cutting-edge architectural design and untouched volcanic landscapes creates a sense of serenity and wonder.
Visiting the Blue Lagoon and Prices 2023
The Blue Lagoon offers a range of options for visitors. Prices vary depending on the package you choose. Standard tickets start at around $50, with premium and luxury options available at higher rates. Be sure to book your ticket in advance, especially during the peak tourist season, as the Blue Lagoon is a must-visit destination for travelers from around the world.
Comfort - 8,990 ISK - This price includes entry to the Blue Lagoon, a mud mask, a towel, and one beverage of your choice.
Premium - 11,490 ISK - Comfort package + seaweed mask, slippers, locker usage, table reservation at LAVA restaurant. If you dine at the restaurant, a complimentary glass of champagne will be served.
Luxury - 69,000 ISK - Comfort package + access to the exclusive relaxation area, a personal dressing room, a set of Blue Lagoon products.
Opening Hours
The Blue Lagoon operates year-round, with opening hours varying by season. Typically, it opens around 8:00 AM and closes between 8:00 PM and 10:00 PM. It's advisable to check the official website www.bluelagoon.com for specific times during your visit.
How to Get There
The Blue Lagoon is conveniently located close to Keflavik International Airport, making it an ideal first or last stop for travelers exploring Iceland. It's just a 20-minute drive from Reykjavik, and many tour operators offer shuttle services for hassle-free transport. If you prefer a self-drive adventure, follow Route 43 and keep an eye out for road signs directing you to the Blue Lagoon.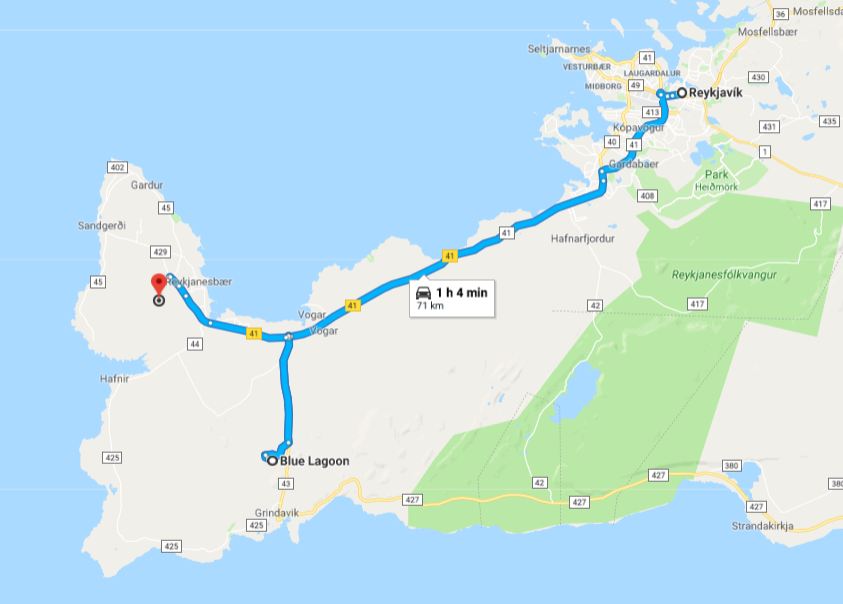 The parking area is surrounded by a stunning landscape, a vast lava field that is approximately 800 years old. It was during this time that the last volcanic eruptions occurred on the Reykjanes Peninsula. As far as the eye can see, you'll witness heaps of grayish-black boulders. At some places, the sharp-edged stones are adorned with soft cushions of green moss. A pathway winds through these rocky formations, guiding all visitors from the parking area to the Blue Lagoon.
Transfer to the Blue Lagoon
There are regular bus transfers to and from the Blue Lagoon from Reykjavik and Keflavik International Airport. Reykjavik Excursions provides these transfers, and you can purchase them along with your entrance ticket to the Blue Lagoon on their website.
Distances
From Keflavik International Airport to the Blue Lagoon: 23 km From Reykjavik to the Blue Lagoon: 47 km Travel Time (by car)
From Keflavik International Airport to the Blue Lagoon: 20 minutes From Reykjavik to the Blue Lagoon: 50 minutes GPS Coordinates
Latitude: N +63.881363 (63° 52'52.9068" N), Longitude: W -22.453115 (-22° 27'11.214" W)
Tours and Activities
To enhance your Blue Lagoon experience, consider booking tours or activities that include spa treatments, in-water massages, and guided tours of the lagoon's surroundings. These add-ons can elevate your visit to a new level of luxury and relaxation.
When you plan your visit to the Blue Lagoon, make sure to take into account the different ticket packages and add-on options that are available. Whether you're seeking a quick dip or a full day of pampering, the Blue Lagoon has something for everyone.
Make your visit to the Blue Lagoon a truly unforgettable experience, soaking in the rejuvenating waters while surrounded by Iceland's otherworldly landscapes and architectural marvels. Don't forget to check for special promotions and packages to ensure you get the most out of your visit.